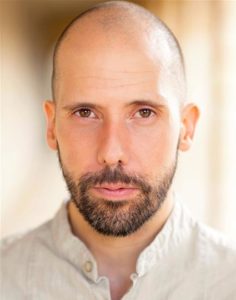 Height: 5'8
Hair: Shaved
Eyes: Brown
Playing Age: 35 – 44
Simon was awarded The Stage Scholarship for his training at London's Academy Drama school and also has a degree in English and Drama from Queen Mary College, London. Alongside acting, he is a film and theatre director and producer as well as a published author and acting teacher.
TV includes: Mark Wilson in Silent Witness, Tsar Nicholas II in Houdini, two episodes of The Borgias and many more.
Feature films include: Lead roles in Therapy and Glamour (both dir. Richard J. Perry); Little Alan in Simon Rumley's gangster epic Once Upon a Time in London and critically acclaimed performance as Wayne Andrews in The Dead Inside (dir. Andy Gilbert)
Theatre includes: Sell out Assembly Edinburgh show Escape From the Planet of the Day That Time Forgot for Company Gavin Robertson; Maggie's End (Gut Reaction Theatre, Shaw Theatre); Billy Blister in Billy Blister's Circus (Watford Palace Theatre); critically acclaimed comedy The Museum of Tat Roadshow alongside regular collaborator Robert Crighton and substantial classical credits.
Simon is also a former television presenter for ITV amongst others.