PETER REID, Director and Writer
Peter is a freelance director since the late 1990's and artistic director with AC Productions Theatre Company since 2004.
His recent work Samuel Beckett's WAITING FOR GODOT played at The Arts Theatre in London's West End. The production was the first time Godot had played there since Peter Hall's English language premiere in 1955. This production has been ongoing since 2005 and has played Singapore and Hong Kong (2008/10/12/14) and returns for a UK and Asian tour in 2018.
AC Productions was set up to produce classic drama, to date they have produced 26 plays toured all over Ireland and to London, Brussels, Prague, Hong Kong and Singapore. Peter has designed and directed all productions. Highlights include Shakespeare's HAMLET, TWELFTH NIGHT, TIMON OF ATHENS, MUCH ADO ABOUT NOTHING, THE MERRY WIVES OF WINDSOR. Beckett's WAITING FOR GODOT, ENDGAME, HAPPY DAYS, KRAPP'S LAST TAPE. Pinter's THE BIRTHDAY PARTY, THE LOVER, PINTER X 4( Four political plays in a site specific presentation, nominated for Best Production Irish Times Theatre Awards 2012) , FAITH HEALER by Brian Friel, OUR COUNTRY'S GOOD by Timberlake Wertenbaker.
Peter has also written adaptations. His new versions of Molière's The Misanthrope and The School for Wives were huge critical and public successes. A new version of The Hypocondriac is due in 2018.
In 2017 as part of The James Joyce Bloomsday Festival and as part of The New Theatre's Joyce celebrations he wrote and directed CYCLOPS, a new play based around chapter 18 of Ulysses. The play also made use of the music of the time and a framework culled from the entire book.
Another adaptation DESIRE, a full length play produced in 2015 was a huge success. The play based on Tolstoy's final short story The Devil transfered the action from Tsarist Russia to modern day Ireland.
His work as a freelance director includes new work, classic American , classic Irish plays, ranging from one man shows to large cast historical epics. Highlights include DANNY AND THE DEEP BLUE SEA  by John Patrick Shanley, PORT AUTHORITY by Conor McPherson,  12 DAYS IN MAY ( The last days of James Connolly) by Frank Allen. MICRODISNEY by Neil Flynn. He is currently collaborating on a new play by the award winning novelist/short story writer and founder of The Irish Writers Centre, Jack Harte.
Peter also works as a dramaturg and reader for new work, has directed a short film CREDIT and is working on a new as yet untitled short film in 2018.
CV available upon request.
——————————————————————————————————————————–
SEAN MILLAR, Singer, Musician and Composer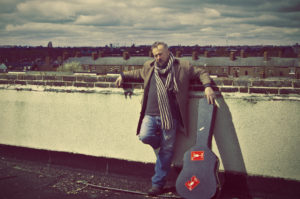 "Irelands Greatest songwriter" hot Press
"A national treasure" the irish times
"Irelands greatest lyricist" the RTE guide
Sean Millar is a musician from Dublin. He works in three areas: as a recording and performing artist, as a composer for theatre – and as an Artist/facilitator in community based creativity, music and education programmes.
Recording and performing artist
He began his career as lead singer and main songwriter in The Cute Hoors -a fast, thrashy, literate, Irish rock and roll band, with whom he toured Ireland,Britain and mainland Europe. They split in 1992….
In 1995 Sean was nominated solo performer of the year at the Heineken hotpress awards (along with Van Morrison, Paul Brady and Gavin Friday).
His first Solo album "The Bitter lie" was later voted one of the Best Irish Albums of all time by both Today FM and The Sunday Tribune.  His second album "The Deal" "was one of the Sunday Times top five albums of the year . It has since been included in Tony Clayton Lea's defining "101 Irish albums you must hear before you die". His third album "Always coming home", prompted The Irish Times, in its five star review, to proclaim him "An Irish national treasure". His fourth album "of the people" had critic's calling him "Irelands greatest lyricist"
His fifth Album "C48" was one of the best reviewed albums of 2013 and was hailed by several critics (Hotpress/Irish Mail/Sunday Business post/The Slate magazine,see reviews below) as "a masterpiece" and was RTE Arena Critics's end of year round up's best album of 2013.
He has toured in Ireland, England, France, Switzerland, Italy, Norway and Denmark and in the United States and Canada and been the subject of major media features in all the main Irish publications.
He has performed on countless TV and radio shows both in Ireland and abroad. His songs have been sung by Jack L, Tom dunne, Gavin Friday, Camille o Sullivan and many many others.
As a composer for Theatre, Sean has gained widespread international acclaim for his work on 'Silver Stars' (author/composer) Dublin theatre festival 2009 and "The Blue Boy" (composer) Dublin theatre Festival 2010 which both toured the world to rave reviews and several international awards.
"the last ten years"; (author/composer) made with RADE participants, received rave reviews and was nominated for two awards at Tiger Dublin Fringe 2012.
In the last three years , He has worked as a composer with  Theatreclub 'History' (composer) Project arts centre 2013, Abbey Theatre 2016 and Brokentalkers 'Frequency 783'(composer) DTF 2014, The Baryshnikov centre NY 2015 and Brokentalkers "Circus animals desertion&".(composer) DTF 2016.
Community Music
For 20 years, Sean has worked extensively across a wide range of Communities in Dublin, both making pieces for performance around specific issues, and helping to create ongoing music programs, some of which continue to run today.
Among the most successful of these have been:
The monument song  Written and performed by young adults from NCCCAP by the heroine epidemic in the North inner city. It was performed by the writers at the launching of the monument on Sean McDermott street.
Tower songs  a response to regeneration made and performed in tower blocks by residents of Fatima Mansions, Ballymun and Dolphin House , with a string section, shortly before their demolition.
The last ten years  a song cycle written with recovering addicts from RADE recovery program about the pharmaceutical industry, performed in St Patricks Cathedral as part of dublin Fringe festival 2012.
Songs of grieviance and hope  a song cycle for theatre , commissioned by the Spectacle of Defiance and Hope, and made with community projects across the city about the effects of austerity on service users. Performed by a cast of community activists @project arts centre 2013.
Reviews of C48 (2013)
"A triumph" 4/5
Metro Herald
"Millar's voice has gained an added timbre with age, and Joe Chester's simple arrangements allow him to soar" 4/5
Sunday Business Post
"Prescribed listening"4/5 
Irish Mail on Sunday
"With C48 Miller has created a masterpiece. Another one" 9/10
Hot Press
"It has long been an open secret that the good Doctor, Sean Millar, is Ireland's greatest living singer-songwriter. You won't hear a better album of original material by an Irish artist all year"  5/5
State Magazine