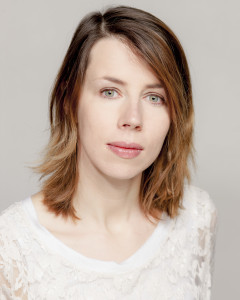 Height: 5'4
Hair: Dark Brown
Eyes: Blue/grey
Playing Age: 30 – 38
Sarah has a wealth of theatrical experience behind her. She is an extremely versatile actress.
She is currently workshopping and writing music for a play  entitled JIGSAW by Noelle Brown being directed by Maisie Lee.
Other projects in development include her own show, SISTER SARAH SINGS and CAN YOU NAME THIS with Tara Derrington.
In 2015/2016 she toured with Brokentalkers/Junk Ensemble's IT FOLDS which played The Peacock, The Bristol Old Vic and the 2016 Edinburgh Festival. Previous to this she toured to Hong Kong with The Gate's production of PRIDE AND PREJUDICE . She has also worked with Then This Theatre Company, Fishamble, Landmark Productions, Barrabbas, Second Age amongst many others. Her play PORTRAIT OF THE ARTIST AS A YOUNGISH WOMAN was selected for Fishamble's New Play Clinic Mentorship.
Film work includes THE CURED directed by David Freyne for Tilted Pictures, CATCALLS by Kate Dolan (an Irish Film Board short) which won the YDA (Young Directors Award) and doing the festival circuit, Bitch Falcon's new music video 'OF HEART', also directed by Kate Dolan – and nominated for a YDA WRITING HOME, a Filmbase feature (nominated for three Galway Film Fleadh awards). Previous to this she won the Best Actor award in GOOD BEHAVIOUR for the 48 Hour Film Project.
Sarah is a singer/songwriter and  plays guitar, Mandolin, banjo, Violin and Ukulele and she supported Supergrass @ The Academy.
She does voice over work as well and speaks Irish and Spanish.
Sarah is a graduate of the full time course at the Gaiety School of Acting.