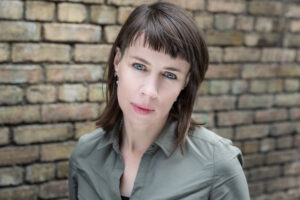 Height: 5'4
Hair: Dark Brown
Eyes: Blue/grey
Playing Age: 35 – 43
Sarah has a wealth of experience behind her. She is an extremely versatile actress.
Recent Film work includes HERSELF directed by Phyllida Loyd (director of MAMMA MIA and THE IRON LADY), STRANGER WITH A CAMERA a feature by Oorlagh George (produced by Terry George),  LILY a new Irish feature by Graham Cantwell, THE CURED directed by David Freyne for Tilted Pictures, CATCALLS by Kate Dolan (an Irish Film Board short) which won the YDA (Young Directors Award) and doing the world festival circuit, also more recently doing the festival circuit is IN ORBIT by Katie McNeice, for which Sarah won Best Supporting Actor at the North European Film Festival in London's Fusion Festival, she is currently also up for the same award in Valencia this autumn. 
A project in development her own short film with Barry J. Kinsella, for which she won ACTOR AS CREATOR funding from Screen Ireland and Bow Street Academy.
Television roles include Máire Ní Chinnéide in ROS NA RÚN (TG4), and  Anglo-Saxon woman in VALHALLA (Netflix series).
Theatre-wise Sarah recently performed at The Abbey in DEAR IRELAND CONTINUES and has previously performed at The Abbey (Peacock Stage) with SHAME by Pom Boyd and Sean Millar. This was a very successful show. Sarah's script THE SECRET LIFE OF NUNS is currently being developed, and a new show CAN U NAME THIS? with Tara Derrington and Fiona Browne is set to go on in 2021 at Project Arts Centre. 
In 2015/2016 she toured with Brokentalkers/Junk Ensemble's IT FOLDS which played The Peacock, The Bristol Old Vic and the 2016 Edinburgh Festival. Previous to this she toured to Hong Kong with The Gate's production of PRIDE AND PREJUDICE . She has also worked with Then This Theatre Company, Fishamble, Landmark Productions, Barrabbas, Second Age amongst many others. Her play PORTRAIT OF THE ARTIST AS A YOUNGISH WOMAN was selected for Fishamble's New Play Clinic Mentorship programme.
Sarah is a singer/songwriter and plays guitar, Mandolin, banjo, Violin and Ukulele and she supported Supergrass @ The Academy and played her own song at Áras an Úachtaráin.