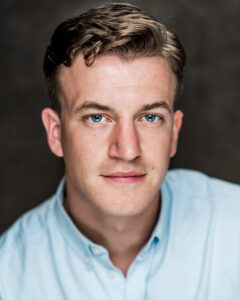 Height: 6'4 (193cm)
Hair: Blonde
Eyes:  Blue
Playing Age: 18 – 25
Nicholas is an actor, writer and creative based in South County Dublin. 
As a graduate of Bow St Academy, Nicholas studied screen acting with Shimmy Marcus and Gerry Grennel. He also trained in RADA's Intensive Scene Study course with Ian Henderson. 
Nicholas can currently be seen in Deadly Cuts (O'Sullivan Productions). His other TV/film credits include Breaking Ice (Liberty Video), Godforsaken (short film), Family Man (short film), Bloodline Detectives S1 & S2 (Peninsula Television), and Pantophobia (short film). 
His commercial work includes Centra supermarkets and Chadwick's Hardware stores which were unaired due to restrictions surrounding the Covid-19 pandemic. 
Nicholas completed his Bachelor's in English and French at University College Dublin. Here, his creative writing was regularly featured in Literary Society publications and his screenplay Days Like This won the 'UCD Script to Screen' bursary.