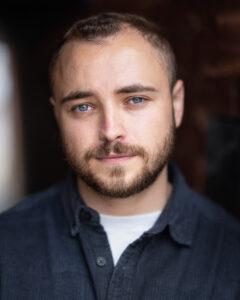 Height:  5'9
Hair:  Sandy Brown
Eyes: Blue
Playing Age: 19 – 25
Liam Gaffney is an Irish actor based in Dublin and Kildare. He studied acting in BowStreet Sceen Acting Academy and from there has learned from a handfull of industry professionals through numerous workshops and courses.
Liam has most recently worked on FAIR CITY, season two of the Netflix series THE ALIENIST, ANGEL OF DARKNESS directed by David Caffrey and played one of the leads in TV pilot FLYBOYZ.
Other recent credits include the award winning film THE SHIFT directed by Megan K. Fox.
A Polish/Irish feature film I NEVER CRY with MK1 Productions, an award winning web series, DRAMA, the lead in the feature film THURSDAY CHILD.
Liam has also done some commercial work as well as projects still currently in production that will come out in 2020.
Liam is passionate about story telling and performance. He has accent training as well as stage combat training. Liam can also plays guitar and has taining in MMA and Brazilian Jiu Jitsu.