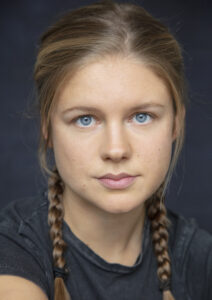 Height: 5'8 (172cms)
Hair: Blonde
Eyes:Blue
Playing Age: 15 – 24
Katie is a Dublin based actor, and a 2023 graduate of the Lir Academy of Dramatic Art.
During her time at the Lir, some of Katie's most memorable roles include Lady Windemere, in LADY WINDEMERE'S FAN, directed by Tom Creed, Mae in MUD, directed by Giulia Grillo, Niamh in UNTITLED, directed by Wayne Jordan, Mammilius/Mopsa in THE WINTER'S TALE, directed by Conall Morrison, and Being in 4.48 PSYCHOSIS, directed by Sara Joyce.
Katie is a trained Singer and Musical Theatre Performer (Grade 7, LMSD). She also has a background in Jazz & Contemporary Dance.
Other skills include Stage-Combat Certificates in Rapier & Dagger, and Unarmed IDCA (Distinction). She is also a Qualified Yoga Instructor.