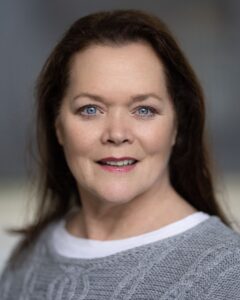 Height: 5'5
Hair: Dark Brown
Eyes: Blue
Playing Age: 50+
DUAL US/IRISH CITIZENSHIP
Kathleen Warner Yeates has worked in stage, TV, film and voiceover for over 35 years, having worked throughout the U.S., in New York City, and she now resides in Dublin.
She appeared as Aunt Carroll in the BBC One/PBS mini-series of Little Women, opposite Angela Lansbury and Maya Hawk in an all-star cast.  In film she has had the leading role in 4 independent feature films and many, many short films. She recently re-voiced the leading role in "The Bridge on San Luis Rey Remastered" with Robert De Niro, Kathy Bates, Harvey Keitel, and F. Murray Abraham.
Most recently she played the leading role of Mary in the critically acclaimed Robbie Walsh independent feature film, The Letters, and was awarded Honorable Mention for Best Leading Actress in a Feature Film by the Independent Film Awards. Additionally, she has the leading role in the upcoming independent Irish feature film "Where We Left It", to be released later in 2023.
In theatre, Kathleen has performed in every genre including experimental works, new plays, classical plays and musicals, working with such distinguished theatre companies as The Philadelphia Drama Guild, The American Music Theatre Festival,  Pennsylvania Stage Company, Walnut Street Theatre, Great American Melodrama and Vaudeville, Oasis Theatre, AC Productions, Wilma Theatre, and The Abbey Theatre among others Some of her favourite theatre roles include Gertrude in Hamlet, Clare in The Maids, Goneril in King Lear, Babe in Crimes of the Heart, Sally Bowles in Cabaret, Polly Peachum in The Threepenny Opera, Louka in Arms and the Man, Regina Giddens in Little Foxes, Daughter of Indra in A Dream Play, Gypsy Rose Lee in Gypsy, Ellen in Vinegar Tom, Czarina Alexandra in Rasputin, Virginia in Brecht's Galileo and Kitty in Poetry of Stone.
Kathleen was awarded "Best Duologue" by casting director judges Maureen Hughes, Louise Kiely and film director Mark O'Connor, at the Ireland Actors Guide industry showcase. She was trained in the Masters Program at Villanova University and also works is a professional director, theatre maker, acting coach and writer with her company Flying Turtle Productions. (www.flyingturtleproductions.com)