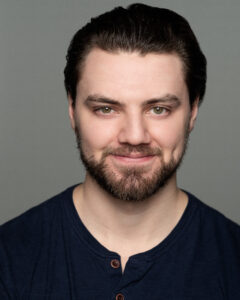 Height: 6'6
Hair: Dark Brown
Eyes: Green
Playing Age: 20 – 30
Eóghain trained at The New York Conservatory for Dramatic Art. He took up an apprenticeship under Janice Orlandi where he refined his skills in Chekov and Williamson Movement Technique for the better part of a year studying with Loyd Williamson himself.
Eóghain's acting credits mostly consist of Off Broadway and Off Off Broadway theatre work getting his start as Ken in the John Logan drama Red, before being cast in a series of plays in association with Columbia University including The Cherry Orchard (Lopakhin) and All My Sons (Chris).  He appeared at the SOHO Playhouse in Eugene O'Neill's  Beyond the Horizon and then at St. Ann's Warehouse as Katurian in Martin McDonagh's The Pillowman.
He has appeared in short films Murphy's Heist and Five Hours to the Garden as well as Feature Length Film Leaving Venice which he wrote himself.
Eoghain is also very passionate about writing and has completed two full length plays, 'Tinted Windows' and 'Ginger Coriander' as well as the aforementioned films 'Leaving Venice' and 'Five Hours to the Garden'.
He loves music, playing a number of instruments as well as writing his own music. He has specialised in music performance at Maynooth University being classical trained in voice in the process.