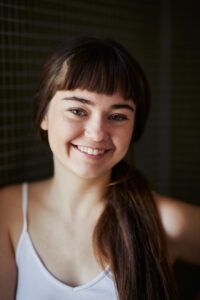 Height: 5'3 (160cms)
Hair: Dark Brown
Eyes: Green-brown
Age:  18 years old
Ella is a 17 year old actor based in Berlin and Cork. Her father is Irish and her mother is German and she speaks both German and English fluently.
She has been working in tv and film since the age of 12. Her most notable credit was playing the young Hannah in 3 series of the famous German series DARK for Netflix.
She also had the pleasure of filming THE STAR WARS JEDI: FALLEN ORDER video game trailer in Canada which was directed by Garth Davis.
To add to all her credits in tv and film in Germany, she most recently finished shooting CLUELESS IN IRELAND (PLANLOS IN IRLAND) in South West of Ireland.