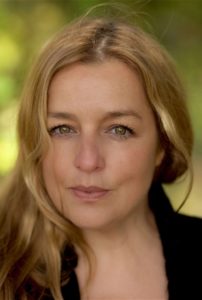 Height: 5'3
Hair: Blonde
Eyes: Green
Playing Age: 40+
Deborah Wiseman is originally from Galway. She trained at Margie Haber Studios in Los Angeles, The Gaiety School of Acting and Focus Theatre.
Film & TV work include: Frank of Ireland for Merman Productions, The Professionals by Roadside Attractions, Vikings for History Channel/MGM, Jack Taylor for Netflix/Telegael, Bubbles by MerritWiseman productions; Woman V40 by Sheila Ryder; Caught by Tony Flynn, A Belfast Story Playing Colleen by JoltMe Productions directed by Nathan Todd Sims; Golgotha (Royal Television Society Award); Mo for Channel 4/ITV playing opposite Julie Walters directed by Phillip Martin; Linda in The Take for ITV/SKY Element Pictures directed by David Drury; Carmel Reynolds in Fair City for RTE; Situations Vacant for Grand Pictures directed by Lisa Mulcahy and 8.5 Hours by Instigator Films by Brian Lally.
Theatre Credits include: The Tingle for The Corp Ensemble; Saints and Sinners for Mouth on Fire; Chrissy in Boys of Foley Street & Mother in Basin with Anu Productions directed by Louise Lowe The School for Wives by AC Productions, Playing A in Terminus in Smock Alley for Thereisbear ;Talk Radio for Seven Silent Men; Tymon of Athens by AC Productions; The Hen Night Epiphany by Jimmy Murphy (National Tour); Freefall: Heroes for Galway Theatre Festival; multiple roles in Changing the Ending with Upstate Theatre (Drogheda Arts Festival);; Rock Paper Scissors for Performance Lab directed by Louise Lowe;
Voice work: Voiced the lead character of Dragon in Sir Mouse by Fabrique Fantastique/RTE due for international release in 2020. She also recently voiced multiple voices in  I am a Fish, RTE. Also narrating and voicing multiple characters in Cats on The Run a book by Ged Gilmore on Audible.. Voicing characters in Brewster the Rooster for RTE/ Salty Dog Productions (2017) and recorded Volume I and Volume II of Irish Legends and Fairy-tales with The Sunday World for a National give away.
Volcanic Voice Over Agency voices@volcanic.ie
Writing: Since attending the Screen Skills Ireland's course Big Stories for the Small Screen she wrote Is This It? a TV pilot co-written with her writing partner Anna Merritt which reached the top1% of 2,500+ scripts submitted to the BBC Drama Room 2019. It was also long-listed for Thousand Films  2019 script writing competition. She has also written and collaborated on other projects including; Teatime – a short screenplay which reached the top 5 in the Virgin Media short film competition 2019, co-written with Anna Merritt; Rot, long listed for the BBC Drama Room in 2016, top 15%; ; Bubbles – a short screenplay placed second at the Waterford Film Festival 2019 which has just been filmed with Deborah as the lead actor.
Reviews
Cats on The Run, Audible reviews. ***** 5 star ratings.
'If there was a 6 star rating available for this narrator. I would give it.'
'The narrator needs her own review! I giggled many a times when she started a new voice, what talent! It was worth it just to hear her do the voices! I don't think I would want to read the book now that I know how well she does the book. I would suggest the audible to anyone that wants to read this book!
'…A wonderfully written story told by a narrator with some serious skills'
'The characters really come to life in this new audio book, wonderfully voiced by super talent Deborah Wiseman….'
'…the narrator was absolutely brilliant …
'…I giggled at each new voice! She must have done over a dozen voices and they were hysterically funny'
REVIEWS
Reviews for The School for Wives
The School for Wives is at the New Theatre in Essex Street in Dublin.
* * * * * Emer O Kelly, Sunday Independent
…..but my goodness, he and his co-stars (particularly Deborah Wiseman) have a whale of a time sinking their teeth into Moliere's absurd set-up.
Review for Saints & Sinners/Mouth on Fire  – The Pot of Broth
The three plays are stand-alone shorts, starting off with The Pot of Broth, where a starving tramp comes into a cottage in Clare only to discover that the cottage he is in belongs to a  tight-fisted owner Sibby (Deborah Wiseman who brings a lot of energy and light to the stage)…
The Red Curtain Review
Reviews for Timon of Athens at Project Arts Centre
AC Productions have a well-merited reputation for intelligent, talented presentation of significant plays, and producing them with high, if economical, production values. Their current production of Timon of Athens at Project in Dublin can only enhance this reputation: it may well, indeed, be the star in their firmament… with accomplished, truly Shakespearean performances throughout from Deborah Wiseman Sunday Independent
…while Kealyn and Deborah Wiseman deliver commendable performances. Sunday Times 
Eilis O'Donnell as the faithful servant and Deborah Wiseman in various roles are particularly impressive The Irish Mail on Sunday
Press Quotes for The Hen Night Epiphany by Jimmy Murphy Sunday Times     
' …it is the excellent ensemble and Murphy's witty text and diverse characters that  make it a real treat….Murphy has reached his Lughnasa moment and we should all be dancing. Irish Mail on Sunday    
' …more Ibsen…it is a serious examination of modern sexual relationships from the women's viewpoint…an awful lot of women will identify with it…characters are sharply drawn.…strong cast. Sunday Business Post      
Review for Terminus TN2 Magazine
Deborah Wiseman plays A, the ex-teacher turned Samaritan who is on a grand quest to save an old student who has gone down the wrong path. Her character has plenty of interaction with lively Dubs and Wiseman does a fantastic job of switching personae and voice changeovers from the calm mother to a rowdy thug. A's story quietly touches on the topic of abortion, an understated segment of the play which provides lasting lingering thought. All give a great energy to the movement of the play, commendable in light of the monologue form which they render as full of life as possible.