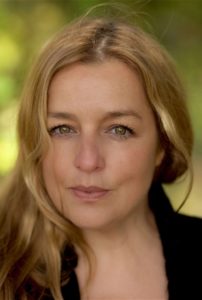 Height: 5'3
Hair: Blonde
Eyes: Green
Playing Age: 40+
Deborah Wiseman is originally from Galway and resides in Dublin. She trained at Margie
Haber Studios in Los Angeles. The Gaiety School of Acting and Focus Theatre.
Film & TV work include: Christmas in Nottinghill for Hallmark, Red Election for Subotica; Frank of Ireland for Merman
Productions; The Professionals by Roadside Attractions; Vikings for History
Channel/MGM; Jack Taylor for Netflix/Telegael; Bubbles by MerritWiseman productions;
Woman V40 by Sheila Ryder; Caught by Tony Flynn, A Belfast Story Playing Colleen by
JoltMe Productions directed by Nathan Todd Sims; Golgotha (Royal Television Society
Award); Mo for Channel 4/ITV playing opposite Julie Walters directed by Phillip Martin;
Linda in The Take for ITV/SKY Element Pictures directed by David Drury; Carmel Reynolds
in Fair City for RTE; Situations Vacant for Grand Pictures directed by Lisa Mulcahy and 8.5
Hours by Instigator Films by Brian Lally.
Theatre Credits include: Circle of Friends@ Gaiety Theatre for Breda Cashe Productions;
The Tingle for The Corp Ensemble; Saints and Sinners for Mouth on Fire; Chrissy in Boys of
Foley Street & Mother in Basin with Anu Productions directed by Louise Lowe; The School
for Wives by AC Productions, Playing A in Terminus in Smock Alley for Thereisbear ;Talk
Radio for Seven Silent Men; Timon of Athens by AC Productions; The Hen Night
Epiphany by Jimmy Murphy (National Tour); Freefall: Heroes for Galway Theatre Festival;
multiple roles in Changing the Ending with Upstate Theatre (Drogheda Arts Festival);; Rock
Paper Scissors for Performance Lab directed by Louise Lowe;
Voice work: Currently voicing the lead character of Dragon in Sir Mouse by Fabrique
Fantastique/RTE and international release 2020/22. Voicing multiple characters in award
winning Podcast Petrified (NY Festival Radio Award)
She also voiced multiple voices in  I am a Fish, RTE. Also narrating and voicing multiple
characters in Cats on The Run a book by Ged Gilmore on Audible.. 5* rating.Voicing
characters in Brewster the Rooster for RTE/ Salty Dog Productions (2017) and recorded
Volume I and Volume II of Irish Legends and Fairy-tales with The Sunday World for a
National give away.
Voiceover
Volcanic Voice Over Agency voices@volcanic.ie
Writing: Deborah was selected one of only 12 participants in the inaugural UK/IRL The
Writers Lab 2021, sponsored by Cate Blanchett's Dirty Films. Since attending the Screen
Skills Ireland's course Big Stories for the Small Screen she wrote Is This It? a TV pilot co-
written with her writing partner Anna Merritt which reached the top1% of 2,500+ scripts
submitted to the BBC Drama Room 2019. It was also long-listed for Thousand Films 2019
script writing competition. She has also written and collaborated on other projects
including; Teatime – a short screenplay which reached the top 5 in the Virgin Media short
film competition 2019, co-written with Anna Merritt; Rot, long listed for the BBC
Drama Room in 2016, top 15%; ; Bubbles – a short screenplay placed second at
the Waterford Film Festival 2019 which has just been filmed with Deborah as the lead actor.