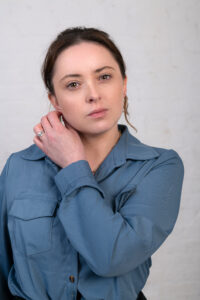 Height: 5'1
Hair: Brown
Eyes: Hazel
Age Range: 27 – 35
Clodagh is an actor and theatre maker, and will soon be appearing as Mary in BODKIN on Netflix.
Clodagh's most recent theatre credits include SAUCE by Ciara Elizabeth Smith, ELENORA SALTER AND THE MONSTER FROM THE SEA directed By Katie O'Halloran, A DAY IN MAY directed by Gerard Stembridge, TRYST directed by Jeda de Bri & SUZIE AND THE STORY SHREDDER.
Previous theatre credits include The Fool/Cordelia in KING LEAR, Ophelia in Second Age's HAMLET, CIRQUE DE REVES, WRONG TURN AT LUNGFISH & THE WISE WOUND.
Her film credits include RED ELECTION,  DUB DAZE, & CUMANN NA BMAN(TG4)