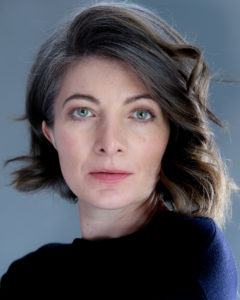 Height: 5'4
Hair: Greying
Eyes: Green
Playing Age: 36 – 43
Claire J Loy is an award winning actor from Cork City. Having originally studied to be an archeologist she made the move into creative arts training at the Gaiety Cork, Bow Street and with theatre practitioner Tom Kibbe.
Recent work includes the feature film THE GATES in which she plays cockney Marie Sheppard alongside John Rhys Davies, Richard Brake and Peter Coonan. 2022 will see the release of OISÍN, dir. Alba Fernandez in which Claire plays the leading role of Clara. Previous screen credits include the multi award winning short film IN ORBIT, TERRIBLE THINGS, CASUALTY (BBC), CROSSHAIR, TRIVIA (RTE) and THE OUTPOST (The CW). Her award winning performance in the critically acclaimed  IN ORBIT (dir.Katie McNeice) was described as 'intense and intelligent'.
Most recently she filmed VALHALLA (Netflix) which is due out later this year and THE BANSHEES OF INISHERE which is still in post production.