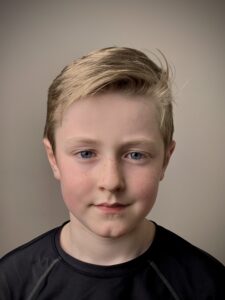 Height: 138 cm
Hair: Blonde
Eyes: Blue
DOB: 30/12/2011
Cian is currently shooting CONVERSATIONS WITH FRIENDS directed by Lenny Abrahamson for Element Pictures where he will be playing the young Joe Alwyn.
Previous to this he might be recognisable as the young boy in the lovely 2020 CHRISTMAS SUPERVALU advert, which was his professional debut.
He has always enjoyed aspects of drama including school plays and making his own home movies.
Cian is also a competitive gymnast, coming 4th in The National Gymnastics competition. He loves soccer, basketball and is also a general all-rounder, particularly very good at most things he's interested in and very competitive.
Cian lives in Cork but has a Dublin base when necessary.