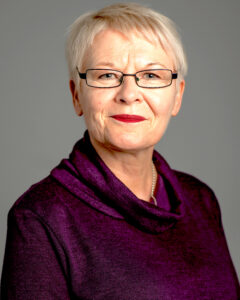 Height: 5ft
Hair: Platinum Blonde
Eyes: Hazel-green
Playing Age: 60+
Carol is from Newtownabbey but now lives in Bangor. She has worked as an actor, director & filmmaker since the 80's and was a co-founder of Charabanc Theatre Company. She is currently writing a book about the history of the company.
Carol's one-woman play The Experience of Being explores issues around ageism and women's invisibility. Directed by Patrick J. O'Reilly, music score by Conor Mitchell and saxophone by Kevin Lawless, premiered at the Baby Grand, Grand Opera House in May, 2019. Other acting theatre credits include: Lovers, Macbeth, Pentecost & Can't Forget About You (Lyric Theatre); Over the Threshold (Big Telly), Those You Pass on the Street, Belfast by Moonlight, Titans, 1 in 5, Two Roads West, Henry & Harriet (Kabosh). Film/tv credits include Nowhere Special, Marcella, Mother's Day, The Lodge and The Truth Commissioner. 
Carol's film directing career includes the feature, Pumpgirl  by Abbie Spallen, the short film Gort an gCnámh (Best First Time Director at the Celtic Film Festival & Foyle Film Festival), Feature. As a NESTA fellow carol directed/produced a number of shorts about cultural diversity in the north and including The Farther, The Dearer, This Belfast Thing, Crack the Pavement. History Unfinished was the Northern Ireland regional winner of the BAFTA 60 SEC 2008).