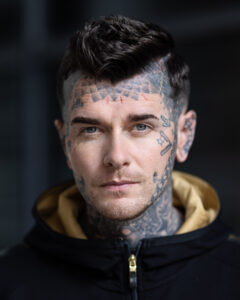 Height: 5'10 (178cm)
Hair: Black
Eyes: Blue
Playing Age: 28 – 38
Baz is a graduate of Bow Street Academy and has appeared on screen in TV shows such as INTO THE BADLANDS (AMC),  KIN (Bron Studios) dir. Diarmuid Goggins and THE DUBLIN MURDERS (Stars/BBC) and some of his film credits include PULCINELLA, DREDGES and THE ZENITH PROTOCOL
As well as acting Baz has been seen on many talk shows promoting positive body image. Some of these shows include 'The Tommy Tiernan Show'  'The Nolan Show' and 'The Claire Byrne Show'
Baz also works behind the camera as Writer/Director and has won numerous Awards with his production company 'Sure Look Productions'.
He will both direct and star in his debut feature film DUBLIN CRUST  in 2022.
He is an accomplished drummer and plays in three bands and he also wrote a best-selling novel called 'Ink Princess'.