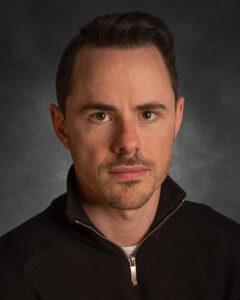 Height: 5 ft 7
Hair: Brown
Eyes: Brown
Playing Age: 32-40
Born in Co Louth, Anthony is an actor/theatre-maker & a graduate of the Royal Central School of Speech and Drama, London.
Some of Anthony's screen credits include:
Skeevy Steevie in HARRY WILD (Dir: Rob Burke (S1)/Rob Quinn (S2); Acorn TV); JW O'Keeffe in CONVERSATIONS WITH FRIENDS (Dir: Lenny Abrahamson; Element Pictures); Garda Officer in KIN (Dir: Diarmuid Goggins/Tessa Hoffe; Bron Studios); & yet to be aired Receptionist in THE WOMAN IN THE WALL (Dir: Rachna Suri) Motive Pictures/BBC/Showtime).
Some of Anthony's stage credits include:
John in A DAY IN MAY (Dir: Gerry Stembridge; written by Colin Murphy, based on the book by Charlie Bird); Zangara in Rough Magic Seeds ASSASSINS; Quintessence Theatre's National Tour of CRACKS (2018) & THE STAR OF CHESTER'S LANE (2021);
Anthony's new one-man show, UNGUARDED (writer/producer/performer) is coming to the Project Arts Centre in January 2024.