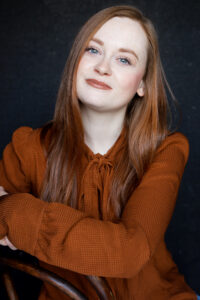 Height: 5'5 (165cms)
Hair: Auburn
Eyes: Blue
Playing Age: 22 – 32
Alicia is an actor from Wexford, based in Dublin. She has been professionally acting since 2013 when she graduated Bull Alley Theatre Training Company and has since played recurring roles in productions such as BBC's RIPPER STREET, History's VIKINGS and Apple TV's sci-fi series FOUNDATION. Alicia's theatre work includes the solo performance of Mollser in ME, MOLLSER with the Abbey Theatre on tour, and she voices several key characters in the hit mobile game Mobile Legends.
Alicia won best supporting actress at the Chelsea Film Festival New York in 2017 for her role of Ciara in the feature film HALF BROTHERS.
Her most recent credits include Poppy in Big Bay Entertainment's POPPY LOFTUS which is currently in post production and Lucy in feature film DREAMTOWN directed by Steven McKenna which is currently shooting in Dublin.