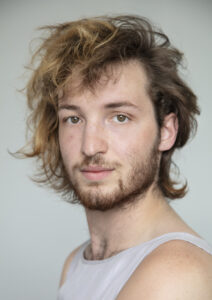 Height: 6'1 (185cm)
Hair: Light/Mid Brown
Eyes: Hazel
Playing Age: 18 – 28
Witt Tarantino is a graduate of the BA in Acting program from the Lir Academy. Their favorite roles while in training were the Moon in Blood Wedding directed by Catriona McLaughlin, Dr. John Buchanan Sr. in Summer and Smoke directed by Joe Dowling, and Herodias/Hume Williams in Salome or the Cult of the Clitoris directed by Mitch Polonsky.
In addition to acting, Witt has worked as a resident costume designer for the Contemporary Theater Company where he designed costumes for their productions of The Skriker, Little Shop of Horrors, and Romeo and Juliet.
Witt is also a playwright, with their most recent work, Don't Kill Spiders, appearing in the Reboot Live Theater Festival in September of 2020.
As a queer performer, Witt is very interested in amplifying fellow queer voices, and telling stories that highlight all the beautiful facets of the LGBTQ+ experience.