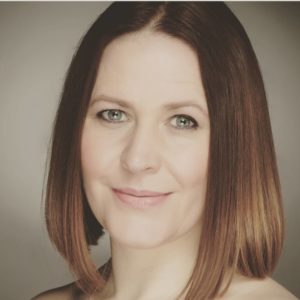 Height: 5'3
Hair: Brown
Eyes: Blue/Green
Playing Age: 35+
Louise trained at Gaiety School of Acting, Dublin and she works regularly in theatre.
Recent theatre credits include'Hansel and Gretel' at The Mac, 'Here We Lie' with Rawlife Theatre Company and Marie Jones' 'Sinners' at The Lyric Theatre, Belfast.
Louise is a collaborator with award winning ANU Productions, Dublin. Projects Directed by Louise Lowe include, 'Sunder', 'The Boys Of Foley Street', (Dublin Theatre Festival) and 'Into The Sun' (Accenture IWD). Other theatre credits include: 'Entitled' with Macha Productions, 'Ignition' with Tinderbox (both at The MAC, Belfast), 'Shibboleth' at The Abbey Theatre, 'The Trouble With Harry with Theatre of Pluck (dir. Alyson Campbell).  For Kabosh Theatre Co: 'No News Is Good News', (Dir Paula McFetridge),' Laser Lunacy' and 'Hostel'  (Dir Fionnuala Kennedy). Prime Cut's 'As If for the First Time' (Dir, Louise Lowe), Red Lemon's 'The Generous Bank' (Dir Patrick J O'Reilly) and 'Bed Behaviour' (Frantic Assembly and Prime Cut Actors Lab).
Film and Television credits include, 'The Last Right' (Deadpan Pictures dir. Aoife Crehan), 'Dave Allen at Peace' (BBC, dir. Andy de Emminy), 'A Bad Day for the Cut' (Six Mile Hill, Dir Chris Baugh), 'A Patch of Fog' (Dir Michael Lennox), 'Stumpy's Brae', (BBCNI, Six Mile Hill Productions, Dir Chris Baugh), 'Behold the Lamb' (Dir. John McIlduff) and 'In Cold blood' (Stirling Productions/BBC).
Louise is a strong singer and has also written and directed many youth productions across NI and is the director of Time to Shine Drama.
She is currently writing a play entitled 'Pristine' which has been commissioned by Tinderbox theatre company