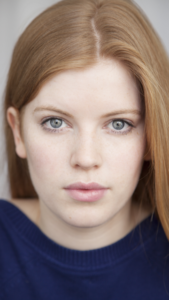 Height: 5'6
Hair:  Strawberry Blonde
Eyes:  Blue/grey
Playing Age:  16 – 23
Jane recently played Evelyn in THE OTHER LAMB directed by Malgorzata Szumowska for Rumble Films which previewed at 2019 TIFF and Jamie in Nick Kelly's award winning feature THE DRUMMER AND THE KEEPER.
She attended the first full-time 'Programme for Screen Acting' at the Bow Street Academy where she trained with Gerry Grennell (her coach), Shimmy Marcus, Stephen Bridgewater, Maureen Hughes, and Lance Daly. Whilst there, Jim Sheridan cast her in his feature film THE SECRET SCRIPTURE where she worked alongside Aidan Turner, Jack Reynor and Rooney Mara.
She recently appeared as Sarah in RTÉ's hit TV Drama STRIKING OUT 2, and previously as Greta in REBELLION also for RTÉ. Her Theatre credits include a leading role of Penny in a tour of Shane Connaughton's play THE PITCH around the Persian Gulf, Lauren in The Wave showcasing in Dublin Fringe Festival and starring as Beth in South London Theatre's production of SCARBOROUGH.
Jane is trained in Alexander Technique, Fitzmaurice Voicework and had extensive accent training with Gerry Grennel. She has in international b1 level Diploma in Italian.