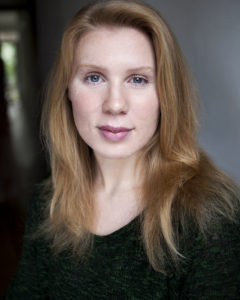 Height: 5'6
Hair: Strawberry Blonde
Eyes: Blue
Age Range: 20 – 28
Emilie is originally from Norway and trained at The Lir National Academy of Dramatic Arts, Ireland, graduating in 2015.
Recently she workshopped Traitor with Pilot Theatre at York Theatre Royal for a UK/Norway co-production which will performed this year.
Previous to this she played Brenna, the shield maiden in a new musical entitled  Forkbeard and Olav: A Tale of Two Vikings.
She  played the Parlour maid in George Bernard Shaw's You Never Can Tell directed by Conall Morrison at The Abbey.
Since graduating she also did a production of Trifles by Susan Glaspell at the Granary Theatre, Cork. Productions at The Lir includes Pornography, My Child, O Go My Man, Troilus and Cressida, Tarry Flynn and the short film series Tinderface directed by Paul Duane.
She has done radio for BBC Radio Northern Ireland.
Before training Emilie co-founded, acted in and was a playwright for the company Folkenteateret in Norway and starred in Festen at Rogaland Theatre.