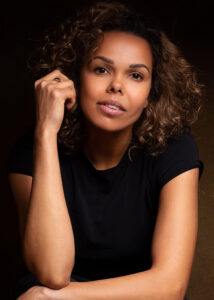 Height: 5 ft4.5 (164cms)
Hair: Brown
Eyes: Dark Brown
Playing Age: 24 – 32
Colleen is a Scottish actor based in Dublin.
She is currently playing the recurring role of 'Anna' in FAIR CITY'
She trained at Bow Street Academy after following a career break where she took the opportunity to travel which took her to parts of Asia, Canada and Australia where she was based before returning and immersing herself back into acting.
Other credits  include WOLF (starring George MacKay, Lily Rose Depp and Paddy Considine),  a new tv pilot series THE NEW I as well as a Music Video for The Soviets and couple of IADT shorts.
She has also just been cast as Jane in an up and coming funded feature LOVE IS SUBJECT.
As a young artist she was involved in Musical Theatre back in Scotland and appeared regularly in numerous musicals at the former prestigious Arts Guild Theatre.
As well as being a strong dancer and singer she is also a qualified Personal Trainer and Group fitness Instructor.