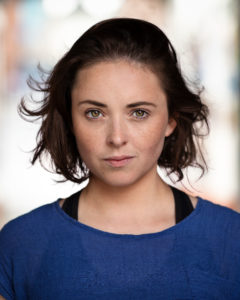 Height: 5'1
Hair: Brown
Eyes: Hazel
Age Range: 17 – 25
Clodagh's most recent theatre credits include A DAY IN MAY directed by Gerard Stembridge which played the Olympia and ran a national tour, TRYST directed by Jeda de Bri which played The Vaults Festival in London in 2019 after a successful run at The Dublin Fringe 2017 and SUZIE AND THE STORY SHREDDER which was part of The Dublin Fringe 2018 and is due to tour later in 2019.
Previous theatre credits include The Fool/Cordelia in KING LEAR (The Mill Theatre),  THE SNOW QUEEN (Smock Alley 2016), Ophelia in Second Age's HAMLET (Helix),  CIRQUE DE REVES ( Smock Alley and Bewleys Cafe Theatre), WRONG TURN AT LUNGFISH ( Civic and Viking), THE WISE WOUND (Smock Alley),  JOANNA (New Theatre), ROMEO AND JULIET (Smock alley and Granary Theatre) FEWER EMERGENCIES (Granary Theatre).
Her film credits include the co-lead in THE COMEBACK,  Tina in DUB DAZE,  Miss Brady in CUMANN NA BMAN(TG4), which won an IFTA in the Specialist Factual Category, and the virtual reality film version of JOANNA.
Clodagh is a graduate of the Gaiety School of Acting Full time course and upon graduating she co-founded The Cup Theatre Company, for whom she is now Artistic Director. Most recently, their company produced STELLA FULL OF STORMS, a one woman play, in which she played the title role. STELLA FULL OF STORMS won Best New Play and was nominated for Best Female Performance in the IGD Theatre Festival.