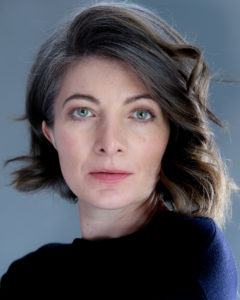 Height: 5'4
Hair: Greying
Eyes: Green
Playing Age: 36 – 43
Claire J Loy is an Irish stage, film and television actress. She was born in Co. Louth, Ireland and was raised in Cork.
Claire plays Louise O'Neill in the indie feature CROSSHAIR (dir. Tom McKenna) which is due for release in Summer 2020. Her award winning performance in the critically acclaimed short film IN ORBIT (dir.Katie McNeice) was described as 'intense and intelligent'. Her television work includes CASUALTY (BBC) TRIVIA (RTE) THE GIRL AT THE END OF THE GARDEN (RTE)
Known for her portrayal of determined women often with an edge of defiance she enjoys the challenge of fleshing out the idea of a person to create a real human being, flaws and all. Claire says 'the flaws are the humanising element of any character, the element that is recognisable in all of us'
Having trained at Bow Street Academy Dublin, the Gaiety School of Acting Cork, Claire also works with New Modern Realist practitioner and pioneer Tom Kibbe.Tom is a former casting director at Warner Brothers and has worked very closely with Michael Douglas.