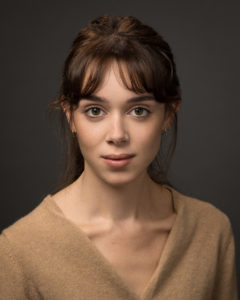 Height: 5'9
Hair: Dark Brown
Eyes: Brown
Playing Age: 16 – 24
Ciara is an English/Irish performer who studied English Literature and Drama at Trinity College Dublin.
Theatre credits include STARSHIP VALENTINE at the Scene and Heard Smock Alley festival and an original adaptation of TESS OF D'URBERVILLES which is her theatre company, Gifthorse's Debut production, SPECTRES OF GORKY which was a Trinity College and Sugarglass co-production directed by Mark Atkinson and LADY LOVE, LADY WAS, LADY LURVE, LADY GOD at The Brighton Fringe Festival
Ciara has also been running Trinity's improvisational comedy group IMPROV SHE WROTE which played 9 shows at the Edinburgh Fringe Festival. This group also performs frequently in Trinity's Player's Theatre.
Recent TV and film credits include a supporting role in Sally Rooney's NORMAL PEOPLE directed by Lenny Abrahamson and a short film entitled HOLY SHIT directed by Louie Carrol.
Ciara used to be a member of the National Youth Theatre in the UK and recently completed Louise Kiely's ten week Intensive Acting Course for Screen and TV.