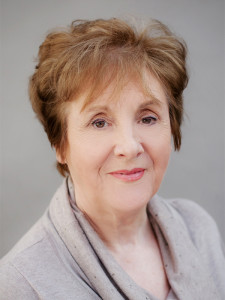 Height: 5'6
Hair: Brown
Eyes: Hazel
Playing Age: 60+
Anne has just finished filming a Docu/drama called SEVEN WOMEN for RTE for the 1916 commemorations.
Anne has always particularly enjoyed playing comedy and some of her earliest work was in revue in Dublin at the Olympia, The Abbey (as Gaeilge), the Eblana and the Gas Company theatre in Dun Laoghaire.
On radio she had a Sunday night series, SUNDAY NIGHTCAP with Bosco Hogan.
Other comedy work was on television in HALL'S PICTORIAL WEEKLY and on stage in the title role in MOLL by John B Keane.
Recent television includes FRAN, MATTIE and GRAVES OF THE DISAPPEARED.
She played Antsy in THE TAILOR AND ANSTY for a long period of time which also went on a nationwide tour as well as at the Pavilion and The Viking Theatre.
She would love to play Big Maggie and Maisie Madigan in JUNO AND THE PAYCOCK.
Anne has extensive voice-over experience and a wide range of accents.