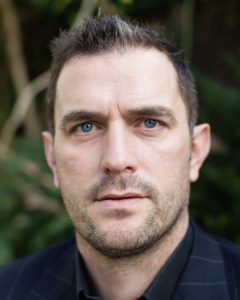 Height: 6'4
Hair:  Brown
Eyes:  Blue
Playing Age:  38 – 45
Steve trained at Mountview in the mid -nineties and has worked extensively in theatre alongside the occasional film and television projects. Highlights include developing the role of Walpole alongside John Cleese for the film PARTING SHOTS; being directed by Rufus Norris in Ivan Vidic's THE MEASLES and bringing Shakespeare's Globe to life during the frost fair.
Steve has a natural physical ability and has collaborated in devising and performing in many physical theatre projects at home in the U.K. and across Europe. His appreciation of the body and a fascination with its potential has led him into movement direction and movement teaching at some of the london drama schools including Mountview, LAMDA and drama studio.
In the last couple of years Steve has been lucky enough to blessed with a beautiful daughter and is enjoying helping to introduce her to the world. Alongside appreciating his role as a father he still finds the time to get into the recording studio to do the occasional dubbing or ADR session for TV.
Now he is ready to tackle the world of theatre, tv and film again.