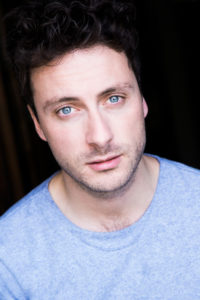 Height: 5'10
Hair: Dark Brown
Eyes: Blue
Playing Age: 24 – 32
Ste is an actor from Dublin. Recent work includes 'BlackCatfishMusketeer' at Summerhall Edinburgh Fringe with Malaprop, 'Sunder' with Anu Productions, 'Carmen Disruption' at the Beckett Theatre, 'Panned' at Theatre Upstairs, a tour of 'Angels in the Park', 'Cornerstones' at Civic Theatre, 'The 24 Hour Plays' at The Abbey, 'Fused' at Project Arts Centre, 'Tales from Briar Hall' at Theatre Upstairs, and Fishamble's Tiny Plays for Dundrum. Previous work with WeGetHigh Collective includes 'Narf!' and 'Sluts' at Smock Alley and Edinburgh Fringe Festival, respectively.
He is currently developing a one-man show for stage entitled 'Memento Murray'.
On screen, he has appeared in TV Series 'Eipic' and 'Corp + Anam', short films 'Summon Her Children' and 'A Long Shot', as well as web series 'The Goo'.
He is a three time nominated Best Actor in the Irish Student Drama Awards. Roles with UCD Dramsoc included Macbeth, C in 'Terminus', Charlie in 'Breathing Corpses', Michael in 'A Whistle in the Dark', and Maggit in 'The Billy Goats of Glenview Park'.
When he's not treading the boards he is also a photographer at www.ste.ie