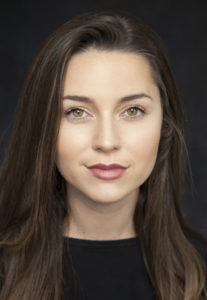 Height: 5'5
Hair: Brown
Eyes: Green
Playing Age: 16 – 24
Slaney trained at The Irish College of Music Theatre in Dublin where she holds a diploma level 7 in Musical Theatre as well as at The Bow Street Academy for Screen Acting.
Her most recent stage credits include Stephen Sondheim's Putting it Together in which she played one of the leading roles while working with Director Christine Scarry and MD David Wray. (The Pavillion Theatre Dun Laoghaire)
'No when' as part of the MA theatre practice in assocaiton with The Gaeity School of Acting (The Boys school Smock Alley Theatre)
Other theatre credits include Kander and Ebb's Cabaret (The Helix), Miss Saigon (The Watergate Theatre), and Disney's Beauty and The beast in which she played the lead role of Belle (The George Bernard Shaw Theatre).
Slaney's film credits include short film Banjaxed (directed by Orlaith Darcy as part of the IADT graduation films) selected for the underground cinema film festival.
Somewhere in the past (directed by Fabiano Albuquerque Negative Space Productions) in which she plays the title role of Mary.
Music video's include Kingdom of Crow's The Drip (Blue Hue Productions), Kim Hayden's Closer (BadBear Productions), The Stoles Evelyn (Negative Space
Productions)
Aswell as acting Slaney is a singer and she also plays guitar while writing her own original songs.