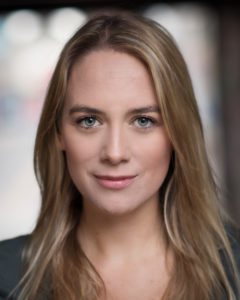 Height: 5'7
Hair: Blonde
Eyes: Green
Playing Age: 26 – 34
Nelly is a fully bilingual French actress and voice-over artist based in Dublin.
Hailing from the Lorraine area in north-eastern France, she has been living in Ireland for sixteen years. 
She fell in love with acting when playing the lead part of Camille in Alfred De Musset's "On ne badine pas avec l'amour" at the age of 19.
So, after completing her studies in Strasbourg, she came to Dublin to study Drama and Acting for Camera at the Gaiety School of Acting for two years. She also graduated in Armed and Unarmed Stage Combat with the Irish Dramatic Combat Academy (IDCA) and studied Irish Theatre at The Lir, Trinity College.
Nelly has many years experience in film (Ladies of Science, Wasteland, I'm Talking to You, Life Begins Now…) stage (What would I do without this Silence– Mouth on Fire Theatre Coie, One Flew Over the Cuckoos Nest– Troppo theatre Coie, The Communication Chord– Troubadour Coie),  and regularly works as a voice-over artist (French TV promos for Fox Sports, TV and radio commercials and corporate recordings).
She has just finished filming BBC's new adaptation of 'Little Women" where she plays the role of Estelle, the French housemaid.