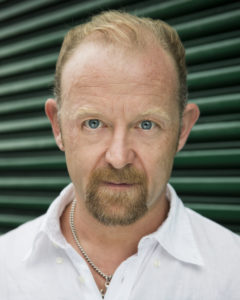 Height: 5'11
Hair: Blonde
Eyes: Blue
Playing Age: 35 – 44
Download CV
Show reel
IMDb
Spotlight
Neill Fleming has been acting his entire life. Thankfully, someone suggested using an actual stage early on. He spent much of his younger life crossing the Atlantic repeatedly, between Dublin, Maine, Massachusetts, Donegal and New York City. This has given him a very keen ear for accents and a chameleon-like ability for character acting. He has trained extensively in voice and his first love, Shakespeare. He has also done musical theatre, worked on a rake of films and has a very strong flair for comedy.
Recent theatre work includes Gloucester in 'King Lear', Claudius in 'Hamlet', Kilby in 'Made in China' which played The Viking Theatre, The Civic Tallaght and Galway Town Hall with Corps Ensemble.
In 2014, he played Vladimir in 'Waiting for Godot' in Singapore to packed houses and great reviews. His one man show 'Desire' based on Leo Tolstoy's short story 'The Devil'  opened earlier last year to critical acclaim.
Past work includes 'On City Water Hill' by Philip St John (Turnaround Productions, Theatre Upstairs),  'Dolls' by Sorcha Kenny (First Fortnight Award, Fringe '13) 'Lady Windermere's Fan' by Oscar Wilde (Bruiser, The MAC), Mary Stuart (Freemasons Hall) Daedalus Lounge (Pageant Wagon, The Mill),  'Accidental Death of an Anarchist', 'Pinter X 4', 'Twelfth Night' and 'Much Ado about Nothing (AC Productions, Project Cube), 'Lovers' (Room to Move, The New Theatre), Love Songs for Losers (Stag's Head, Gutsy Productions. Absolut Fringe), After Midnight, Before Dawn (Silent Blade, Smock Alley), Candy Flipping Butterflies (Adopt a Hermit, The New Theatre), The Importance of Being Earnest (Troppo, Liberty Hall), The Hostage (Wonderland, The Pearse Centre), La Locandiera (Wonderland, Edinburgh Fringe), Julius Caesar (Classic Stage Ireland, Project Cube), Who By Fire, (Water to Wine, Olympia), and The Rainstorm (Tyger, Tyger, The Fringe, Axis).
He has also featured in Red Rock, (TV3),  Fair City (RTÉ), won Best Actor at indieFEST for his role in The Hit Producer (Ned Kelly Films), Game of Thrones (HBO), A Terrible Beauty  (TG4), Portrait of a Zombie (Organic Hill), The Nixer (Guerrilla 12), A Christmas Carol and The Ecstasy of Isabel Mann (October 11).