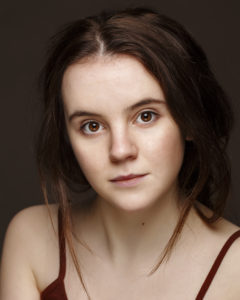 Height: 4'11
Hair:  Brown
Eyes: Brown
Playing Age: 14 – 22
Meg is a Mayo native and graduated from the full time course at The Gaiety School of Acting.
Theatre credits include HOSTEL 16 directed by Raymond Keane which won awards at The Dublin Fringe Festival 2016. Other theatre credits include INSIDE THE GP, directed by Jim Culleton for Fishamble, GULLIVER'S TRAVELS directed by Conall Morrison,  SERIOUSLY THOUGH (her own original piece) as EN MASSE (Ragamuffin Collective)
She recently finished filming THERE YOU WILL FIND ME directed by Brian Baugh where she played the part of Orla. Other film credits include the feature THE GREEN SEA, directed by Randall Plunkett for Zanzibar Productions and  the short FRENEMIES directed by Tom Hall.
Her next project is  John Godber's SHAKERS at Smock Alley directed by Claudia Kinehan.
Meg is a passionate badminton player, who enjoys singing, dancing and reading.