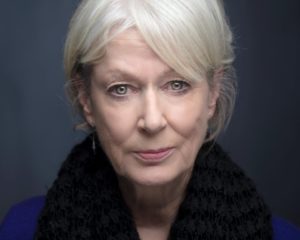 Height: 5'6
Hair: Short Ash Grey
Eyes: Hazel
Playing Age: 60+
Liz Lloyd trained at The Royal Central School, London.  She returned to her native Dublin in 1980 to appear in an RTE TV Drama, "Payoff" and has  remained here ever since working in most major theatres the length and breadth of Ireland.
Some of her favourite roles are Miss Felletti in Jim Sheridan's production of "Accidental Death Of An Anarchist", Suzi In "I do Not Like Thee Dr.Fell" at the Olympia,  where she also played Mrs. Lyons in the long running musical, "Blood Brothers"; Gwendolin  in "The Importance Of Being Earnest"  and Mme. Jourdan In "Le Bourgeois Gentilhomme" both at the Lyric, Belfast and Victoria Pratt in "Pratt's Fall" directed by Patrick Mason.
Liz was a founder member of the innovative Theatre Company SMOCK ALLEY which toured Ireland and played The Irish Art's Centre, New York and Howarth Summer Festival, New Jersey, playing Helena in "A Midsummer Night's Dream", and Angelica In "Love of Love".
At the Gate Liz has appeared in J.B. Kean's "Dan Paddy Andy", "The Elephant Man" and most recently she played Catherine in "Arms and The Man"  directed by Alan Stanford.
Also for RTE, Liz played Hazel Hendricks in "Fair City" for 3 years and Gina in the daily Radio Soap opera, "Konvenience Korner" for two years.
Other TV and film credits include, "Taffin" and "Remmington Steel (MGM) "The Price" (Chan 4/RTE). "The Tudors", "The Abduction Club", "Glenroe" (RTE)  "Lost Belongings" (Chan 4).
In addition to numerous TV, Radio Plays, Documentaries and V/O's, Liz has voiced Hel, Queen of The Underworld in the animation film "Tales of Valhalla" and  the characters Fox and Swan in "The Ugly Duckling And Me".  Both for Magma Productions.
Liz has also directed two shows.  "The Deal" by Thomas Clare which toured The Civic, Draiocht and Axis Theatres  and "The Waiting Room" by Shane Craddock in the Civic theatre and Smock Alley Theatre.