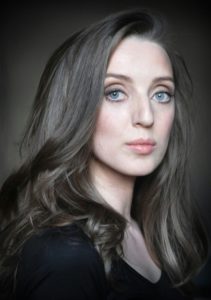 Height: 5'4
Hair: Dark Blonde
Eyes: Blue
Playing Age: 27 – 35
DUAL BELGIAN/CANADIAN CITIZENSHIP
Katrijne was born and raised in Belgium to a Flemish mother and a Canadian father.
She began her acting career at a young age in the musical, THE KING AND I, with the Royal Ballet of Flanders, and has been performing on stage and screen ever since.
After graduating from The Gaiety School of Acting (where she was awarded the Riverdance Acting Bursary), Katrine co-founded The Cup Theatre Company (Dublin) where she played Suzy in GASLIGHTS. She appeared on stage in Gary Duggan's TOWN/COUNTRY (Smock Alley Theatre) in addition to other performances in Ireland and Belgium.
Since returning to Belgium, she has acted as the lead in an array of Belgian short films and recently appeared alongside Lacey Chabert in the feature, LOVE, ROMANCE AND CHOCOLATE, directed by Jonathan Wright. She, also can currently be seen in several Belgian tv-commercials for companies such as ORANGE, BEOBANK and TELENET.
As well as acting, Katrijne has an extensive background in dancing (ballet, hip-hop, jazz, contemporary).
She currently lives in Brussels where she also obtained a Masters in Western Literature and a Masters in Educational Science.
She has a base in Dublin and London.