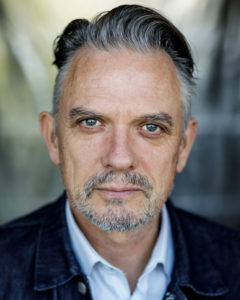 Height: 5'7
Hair: Greying
Eyes: Blue/Grey
Playing Age: 50+
Rooney is very funny, but it is with his guitar in his hands that he becomes unmissable
The Stage
Joe Rooney was voted Best Comedian 2017 at the recent Pure M Awards. He has been a headline act in venues all over Britain and Ireland for many years including The Stand ( Edinburgh, Glasgow, Newcastle), The Empire (Belfast) and Laughter Lounge (Dublin) and has headlined clubs in China, Kansas City, Dubai, Moscow and Bahrain.  In the last year he has performed his show in Chicago, Dubai, Kansas City, Glastonbury Festival and Bangkok.  His energetic mixture of stand up and musical comedy and ability to engage with the audience has proved a hit with all ages and nationalities.
Joe is also a successful actor and writer having acted as Father Damo in FATHER TED and Timmy in the long running RTE sitcom KILLINASKULLY as well as a host of short and feature films. He starred in the CBBC seriesROY, was winner of Ireland's CELEBRITY COME DINE WITH ME, got a five star review in the theatre version of THE SHAWSHANK REDEMPTION along with Omid Djalili, recorded a single "The Rockier Road to Poland" with Shane MacGowan and performed a five week run in the Gaiety in John B Keane's THE CHASTITUTE.
I'm still laughing at the thought of Fr. Damien (Damo) Lennon, the gurrier curate who lead Fr. Dougal astray…He was an inspired invention and was brilliantly played by Joe Rooney
John Boland, Sunday Independent
"We're here to wallow in how immensely bad it can get. Us Irish, we love the idea of a hard old time on the way," Rooney declared inside an ornate theater-pub, prompting knowing laughter from the standing-room-only audience, many of whom were hoisting pints 
The Los Angeles Times
Occasionally laconic, at times infectiously manic, and always rivetting – coupled with his years of experience have made him one of Ireland's "10 Most Wanted", when promoters nationwide pick up their phones.
The Hot Press