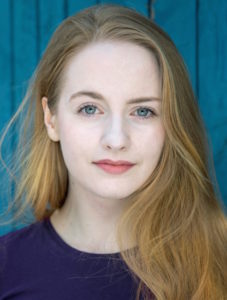 Height: 5'8
Hair: Dark Blonde
Eyes: Blue
Playing Age: 20 – 30
Hilary is a graduate of the Advanced Screen Training programme at Bow Street and has a first class honours degree in Drama and Theatre studies and French from University College Cork which also included  a year at the Université Sorbonne-Nouvelle, Paris.
Screen credits include BONSOIR LUNA which premiered at the Cannes Film Festival, THE BETRAYAL with Driftwood Doll films, THE WRITER with Cantillon Films, JACK TAYLOR for Telegael and RESISTANCE for RTÉ.
Theatre credits include PLAY, FOOTFALLS and THE ONLY JEALOUSY OF EMER and ALICE IN WONDERLAND with Blue Raincoat Theatre Co., DORCHADAS DRAÍOCHTA with Graffiti Theatre Co., THE WATCHMAKER ballet at the Olympia and Swiss tour, TINY SHOWS at the So & So Arts Club, London, the Irish premiere of CLEANSED, ADAPTATIONS DE MUSSET at the Grand Palais, Paris, DRADIN IN LOVE at the Galway Theatre Festival, THE PARTY at Dublin Fringe Festival and THE DREAM PLAY with the National Youth Theatre.
She recently finished THE TRAVELS OF JONATHAN SWIFT with Conall Morrison and is currently working with Super Paua Theatre Company in developing their new show.
She is also a director with Mumbro Top Theatre Company and will be touring CARA SA CHÚIRT with Mumbro Top around Ireland later this year.
Hilary is a fluent Irish speaker and is a regular voiceover artist with TG4.