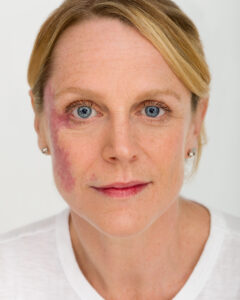 Height: 5ft4 (163cm)
Hair: Blonde
Eyes: Blue
Playing Age: 35 – 45
Straight after graduating from the Royal Welsh College of Music and Drama, Hannah appeared in the lead role of Kerry in the premier of BULLY which was directed by John Godber at Hull Truck. Hannah impressed John with her debut performance, so he wrote several parts for her in his next play, ON A NIGHT LIKE THIS, which premiered at Hull Truck and toured the UK. 
Hannah went on to play Miranda in THE TEMPEST directed by Tom Wright at The Southwark Playhouse, Vela in MOONSHED directed by Sarah Frankom at The Manchester Royal Exchange, and The Ghost of Christmas Past in a touring production of A CHRISTMAS CAROL directed by Keith Strachan. 
Her television work includes parts in THE BILL, DOCTORS, NEW TRICKS and alongside James Nesbitt in Murphy's law. Hannah also worked out in Sri Lanka alongside Olivia Hussey in the television movie MOTHER TERESA, A PENCIL IN THE HAND OF GOD.
Hannah took a break from acting to raise a family and during this time established herself as a respected voice over artist lending her vocal talents to high profile television campaigns for Lancôme, Norwegian Air, iTunes, Sky and several video games, including Warhammer and Demon Souls. Hannah has also been a presenter on Fun Kids radio, a live audio describer for the London 2012 Paralympics on Channel 4 and has leant her vocal talents to hundreds of crowd ADR sessions for TV and Film.
Hannah is a founding member of Band of Mothers, a collective of working mothers with a passion for creating theatre. Supported by The Globe, the group meet regularly to reconnect and reignite their artistic muscles and voices.
Hannah is based out of London and the UK.