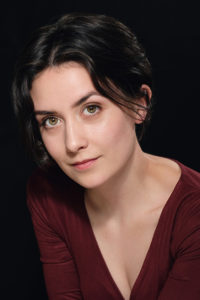 Height: 5'5
Hair: Dark Brown
Eyes: Hazel
Playing age: 27 – 33
Edel trained as an actor and holds a BA in Drama performance from DIT.
She has extensive musical experience and has been performing for many years both in choirs and as a featured soloist with credits such as 'The Manchester Carols' (All Hallows) and 'Arise my Love' (Celtic Mass).
This summer she will be starring as the soprano soloist with the world renowned Riverdance at The Gaiety Theatre. This will be her third outing with Riverdance having performed in 2014/2015 at The Gaiety and also at The Apollo in London as part of the 20th anniversary tour.
She plays many instruments including piano, guitar and ukulele, and has recently released her first EP, Bluebonnet Spring, which has enjoyed both UK and Irish radio play (BBC, RTE).
Edel has toured extensively with Emmy nominated Irish music group Celtic Woman, visiting the US, Canada, Brazil, Australia and many countries in Europe. She performed with them in the 3 Arena in Dublin in 2015, and
Previous theatre credits include Romeo and Juliet (Smock Alley), The Arabian Nights (Project Arts), Agamemnon (Project Arts), The Curious Case of the Stoneybatter Strangler (Dublin Fringe 2013), Angels in the Park (Ranelagh Festival 2013), Monster Clock (The Lir), Look-at-me Disease (Smock Alley Scene/Heard), and When We Were Young (The Everyman, Cork).
She has also collaborated with YinYang theatre company on many of their productions as director, writer and producer.'