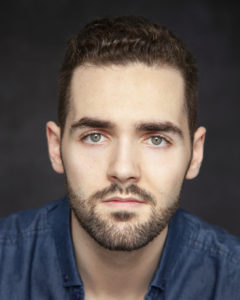 Height: 6'2
Hair: Dark Brown
Eyes: Green
Playing Age: 18 – 28
Éanna has just completed his Bachelor Degree in Acting at The Lir Academy.
During his time at the Lir Éanna played a great variety of characters. Corman in SERIOUS MONEY dir.Oonagh Murphy, Ignatius Gallagher and others in DUBLINERS dir. Annie Ryan, Pander and other characters with over 8 different accents in PERICLES dir. Conall Morrison, Old Ekdal in THE WILD DUCK dir. Annabelle Comyn, and The Writer in HOMOS, OR EVERYBODY IN AMERICA dir. Chris Moran.
Short Film credits include Ralph in BROKEN WORDS dir. Nikos Douglas Wood and Eamon in POWER OUT dir. Natasha Waugh.
Other skills include IDCA Rapier and Dagger and IDCA Unarmed (Distinction), Singing, and Voice Acting.
Éanna is very interested in making work, both as a writer and devising pieces as part of an ensemble.