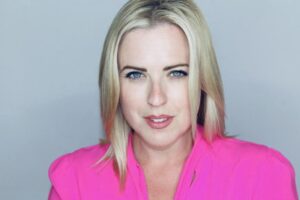 Height: 5'3
Hair:  Blonde
Eyes:   Blue
Playing Age: 32 – 40
Charlene was born in Dublin, Ireland.
After graduating from the Gaiety School of Acting
in 2006 Charlene appeared in a number of stage productions, including Ireland's national
theatre, The Abbey she played Honor Blake in the PLAYBOY OF THE WESTERN WORLD by
Roddy Doyle .
Charlene made the transition to television in 2007 where she was cast in the
leading role of Jolene Little in the TV series TROUBLE AND PARADISE for RTE Two. In 2009
Charlene was cast again as the lead in the popular Irish TV show SARAH AND STEVE,
written by Emmet Kirwan. Charlene played Amy in RTE's acclaimed show RAW and
worked with award-winning Director Alan Shannon playing the role of Tara Loveworth in
the Children's show ROY in 2011.
Charlene produced her first short film 100 degrees, directed by Jason Barry and written by Glen Barry, in Los Angeles in 2012. The short film 100 degrees opened the LA Irish short film festival in west Hollywood. Charlene remained in Los Angeles in 2013, where she worked on the TV pilot MOON, the short film THE AMERICAN DREAM, and the horror film RAPTOR RANCH.
Upon her return she worked to create a new play for the Dublin's collaborations and fringe festival with writer Tracey Martin. They worked together for over a year to create the highly successful show HARDER FASTER MORE, produced by Red Bear Productions which also went on tour in the west of Ireland. RTE then produced the radio play version of it and it won the Imro Award.
She then returned to the screen in 2016, working with director John Logan in the HBO TV drama PENNY DREADFUL. She collaborated with director/actor Simon Bird on his debut feature, ERNESTINE AND KIT. In 2017, Charlene played Stacey Orten in the TV special of Ireland's leading soap FAIR CITY.
Charlene was also cast in two short films,QED and GUSTAV, both of which premiered at the 29th
Galway film Fleadh.
During the pandemic Charlene co-founded Deadly Films with Kate Brennan and Jack Olahan and produced, created, and starred in the hit short film CHERRY. She also plays Doll Mother in the HBo TV series SILVER with Director Helena Hufnagel, that will be out this summer.
Charlene is an accomplished Voice over Artist and is represented by Ireland's Leading
Voice over Agency VoiceBank