Height: 5'8
Hair: Red/Titian
Eyes: Blue
Playing Age: 30-40
Annette is best known for her TV roles in Eastenders, Hollyoaks and Fair City. She appeared recently in Eastenders as Phil Mitchell's Transplant Co-ordination, was Detective Lucy Glennie in several episodes of Hollyoaks and played regular lead, the fun and flirtatious schoolteacher Maeve McIlhinney in Fair City for over two years. 
For stage Annette was awarded the Best Actress Accolade for her performance as Eva Gore-Booth in the 5 star one-woman play I Run, I Sing, I Swim, I Dive. Other theatrical credits include Orphans (Focus Theatre), The Winter's Tale (Project Arts), A Comedy of Errors (Shakespeare in the Park), Some Explicit Polaroids (Samuel Beckett Theatre), The Proposal (Chancery Lane), Sinbad (Water musical – UK and Ireland tour), A Murder of Crows (Barnstorm, Nationwide tour) and Tonight Everything is Going To Change (Dublin Fringe). 
Annette recently recorded the audiobook for Skin Deep, the sinister new novel from the No 1 bestselling author of Unravelling Oliver and the Richard and Judy Book Club pick Lying In Wait.
Liz Nugent's novel is the dark, twisted and shocking story of what takes Cordelia Russell from an island childhood in Ireland to ruin in Nice. Download it on audible.co.uk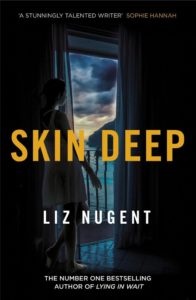 Hailing from Ballina, Co. Mayo, she currently lives in London. 
Reviews:
I Run, I Sing, I Swim, I Dive ★★★★★
"Annette Flynn is remarkable as Eva Gore Booth. The energy behind the force of her character is overwhelming" Aoife Ryan – entertainment.ie 
(Best Actress Award – Dublin Gay Theatre Festival)
Tonight Everything's Going to Change
"..(Annette Flynn is stand out)" Maedhbh McHugh – Irish Theatre Magazine
Orphans
"Annette Flynn is totally gripping as Helen.." Patrick Brennan – Irish Theatre Magazine
"Annette Flynn, as the emotionally divided Helen, creates moments of heart wrenching depths." Ruth Connolly – Sunday Business Post