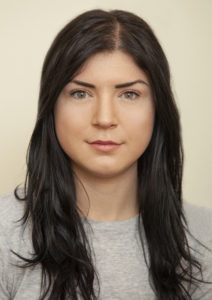 Height: 5'6
Hair: Black
Eyes: Heterochromia/Mixed
Playing Age: 18 – 28
DUAL IRISH/UK CITIZENSHIP
Anna is an actor, vocalist and facilitator based in Dublin & Belfast.
Originally from Northern Ireland, Anna is a recent graduate from the Gaiety School of Acting (2019).
Theatre credits include: Mary Brenham in Our Country's Good (directed by Philip Crawford at the Lyric Theatre Belfast); Marianne in The Miser (directed by Aoife Spillane-Hinks); Whose Feet? (directed by Frances Mezzetti & Libby Seward, at the GPO Witness History in association with Animated State Dance Theatre Company); Angelo in Measure for Measure (directed by Liam Halligan); Mother in A Crucial Week In The Life of a Grocer's Assistant (directed by Paul Brennan); Mrs. Malaprop in The Rivals (directed by Gene Rooney); and Batty in Below Below (directed by Raymond Keane, a new play by Fionnuala Gygax at Smock Alley Theatre 1662).
She has also collaborated with Brian Burroughs, Rex Ryan, & Donal Courtney on her original writing Manifesto piece 'Mermaids'.
Screen credits include: Mary in The Belfast Nativity (directed by Emmet McMullen, Foot of the Dall Productions ((officially selected for Belfast Film Festival 2016)) ), The Old Vic (directed by Lia Campbell, National Film School), and Hannah in Park Life (directed by BAFTA award winning director Laura Way, Bodecii Film)
As a professional musician Anna is involved in numerous musical projects as a session musician, recording artist, commercial vocalist, and lyricist. She is also a highly experienced teacher of Classical Violin, Traditional Fiddle, & Singing.