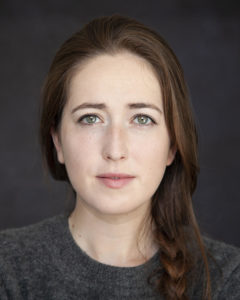 Height:  5'7
Hair:  Dark Brown
Eyes: Green
Playing Age: 17 – 25
DUAL UK/IRISH NATIONALITY
Amy is a recent graduate of The Lir – National Academy of Dramatic Art (2019).
During training she played Ms. Biddulph in SERIOUS MONEY dir. by Oonagh Murphy, Emily Sinico in DUBLINERS dir. by Annie Ryan, The Bawd in PERICLES dir. by Conall Morrison, Mrs Sorby in THE WILD DUCK dir. by Annabelle Comyn and Gilda in X dir. by Kevin Michael Reed.
On screen she played Emily in SHORT STAY, a short film dir. by Ruth Meehan.
Recently she took part is two rehearsed readings: SCRIPTED dir by Maisie Lee for The Dublin Fringe 2019 and YOU CAN LEAVE AT ANY TIME dir. Gerry Stembridge for the 2019 Dublin Theatre Festival.
Prior to attending The Lir, Amy took part in the National Theatre Connections Festival (2011 and 2012), was a member of National Youth Theatre and founded Crows Nest Theatre, under which she played Nicola in a successful Fringe run of THE POSITIVE HOUR by April de Angelis, dir. by Julian Kerridge.
She also has some voiceover experience having narrated Children's stories for ProperReads Audiobooks and voiced for EFL learning material.
Amy is very interested in new writing and devising and is currently developing her skills as an Actor-Writer. She also sings, plays acoustic Guitar and has completed of Unarmed and Rapier and Dagger Stage Combat IDCA.